Little Legends – Boys & Girls
Field Hockey is the world's third most popular sport and is growing in Michigan.  Local high schools: Brighton, Hartland, Pinckney, Novi, St. Catherines as well as Washtenaw Co. schools all have Varsity programs.   Learn skills: dribbling, passing, receiving, shooting and team concepts. Teamwork is emphasized. Sticks are available to borrow for the session. Training/Games held on Saturday mornings. Space is limited.
Girls Program Details:
Ages:  U8-10 & U12
Location: Legacy Center Sports Complex
Skill Level: Introductory/Beginner
Cost: $120
Dates: April 17 – June 5
Time: 9:00a – 10:00a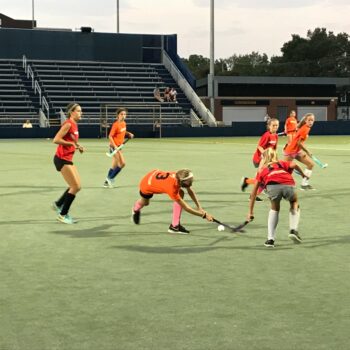 Middle School & High School League
Spring Field Hockey is coming to Legacy Center Sports Complex, join in the fun!  Our Spring League will incorporate athletic development, skills development, tactical awareness and game play.  Register as an individual and teams will be assigned.
Program Details:
When: April 15 – May 20
Cost: $225 / Athlete
Family Field Hockey
Field Hockey is a sport for everyone, don't let the kids have all the fun.  During the first part of this program, families will be playing and learning together.  During the second part of the program we will divide to age appropriate groups for play!
Program Details:
When: April 17 – June 5
Cost: $105 / Adult | $75 / Child | $20 / Pinnies
Adult League
Come and play field hockey!  This program is for all experience levels.  We will divide teams to make the most of the day so everyone has a great experience.  The sport of field hockey is growing in the Livingston County area, be a part of the fun.
Program Details:
Time: 7:00p – 8:30p
Dates: April 15 – May 20
Cost: $120 / Athlete + $20 Pinnies
Age: 18+
USA Field Hockey Event
Program Details:
Time: 6:30p – 8:00p
Date: Friday, April 9
Cost: $30 / Athlete
Contact Keely for questions about Legacy Field Hockey