Little Legends – Boys & Girls
Field Hockey is the world's third most popular sport and is growing in Michigan.  Local high schools: Brighton, Hartland, Pinckney, Novi, St. Catherines as well as Washtenaw Co. schools all have Varsity programs.   Learn skills: dribbling, passing, receiving, shooting and team concepts. Teamwork is emphasized. Sticks are available to borrow for the session. Training/Games held on Saturday mornings. Space is limited.
Girls Program Details:
Ages:  U10 & U12
Location: Legacy Center Sports Complex
Skill Level: Introductory/Beginner
Cost: $125
Session 1 Dates: November 14, 21, December 5, 12, 19
Session 2 Dates: January 9, 16, 23, 30, February 6
Session 3 Dates: February 20, 27, March 6, 13, 20
Session Class Time: 9:50a – 10:50a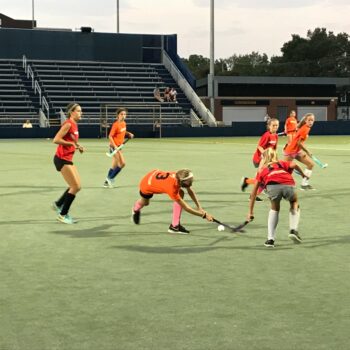 High School League
We agree – the season ended too soon and we already miss being on the field playing the sport we love!  Come join us on Wednesday to play in our high school league.  We will start will a tactical and technical focus for the day and follow it with competitive play!  Bring your friends!  Space is limited so reserve your spot now!
Program Details:
Time: Wednesdays 6:30p – 8:00p at the Legacy Center
Dates: January 6, 13, 20, 27, February 3, 10, 17, 24
Cost: $300
Age: High School
Adult League
We are excited to bring indoor field hockey to our adult community!  This program is designed for new and experienced players alike!  Come join the fun.  January 31 will be instructional and a way for experienced players to dust off their sticks and brush up on skills.  February is slated to be game play with games at 6:00 PM and 7:15 PM.
Program Details:
Time: Sundays 6:00p & 7:15p at the Legacy Center
Dates: TBD
Cost: $100
Age: 18+
Contact Keely for questions about Legacy Field Hockey