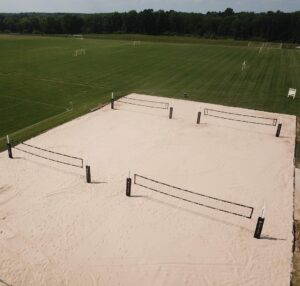 August 2nd Doubles Beach Tournament – Juniors
Looking for some competition this summer? Join us on August 2nd with a partner and have some fun in the sand!
Details
When: August 2nd
Time: 10am Play Starts. Check in starts at 9:00am. Players meeting at 9:45am
Where: Legacy Center Sports Complex Beach Courts (west side of Dome) 9299 Goble Dr. Brighton, MI 48116
What: Doubles Beach Tournament (Ages 12-18 with 2 divisions)
Rules
There will be more specific rules about play type (how many points you are playing to other rules) that will be covered at the teams meeting at 8:45am.
First match will start at 9am. So as soon as the team meeting is done, we will give the girls a 10 minute warm-up before their first match. Matches will only have 5 minutes between after everyone's first game.
No open hand receive on first contact. (Hands can be used as long as the hands stay together.)
Report score after each SET to the tournament desk. Winning team brings the ball to get sanitized and report the score.
Call your doubles and ins and outs. (This will allow girls to get plenty of rest between matches)
Water fountains and bathrooms will be open at the Dome, but we recommend that you bring plenty of your own liquids. We will also have a water jug at the tournament desk. Please wait for the tournament director to fill the bottle for you and remove the lid before giving it to the tournament director.
Concession stands at the Baseball facility will be open. CREDIT CARD ONLY!
Safety Measures
Hand Sanitizer will be available at each court for athletes to use and are encouraged to use if they touch their face.
Balls will be sanitized after each match, (girls must bring the balls to the tournament desk and report their scores)
Any spectators and or tents must remain 6ft away at all times.
No Spectators on the sand. This will be a strict rule.
Health Screening questions will be asked of all participants and spectators upon arrival.  if you are presenting any symptoms of COVID-19, we ask that you stay home.
First Aid will be available at the Tournament Desk
Wear Sunscreen and sunglasses
The sand will get hot throughout the day so we encourage you to wear sand socks or something to protect your feet.
We will play through the rain and high wind. We will delay for any thunder and lightning. After being delayed for 90 minutes and if it looks like there is no break in the weather, we will call the rest of the tournament.